Lakeridge Hall, in business for over 40 years, is located in a safe, centrally located neighborhood in suburban Cincinnati.
The lake that gives Lakeridge Hall its name greets your guests on their way up to the hall. Plenty of free, easily accessible parking is available in front of the hall.

With a full capacity of 500, Lakeridge Hall can be divided into two smaller reception areas -- the
Garden Room
, with a maximum capacity of 200, and the
Terrace Room
, which can accommodate up to 300 people.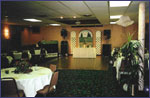 A smaller Conference Room is also located on premises, in our office complex across from Lake Nina restaurant. The Conference Room holds up to 100 people, is ideal for small receptions and family or business gatherings.
Lakeridge also offers facilities for outdoor weddings, on our beautiful park-like grounds.
Accessories such as balloon centerpieces, wine fountains, a jukebox, and trellis archways are available for events in all of our facilities. Lakeridge also provides multiple dining options, including drinks, snacks, and hot buffets. For additional information, as well as food and drink selections, see our price list.
To view photographs of our facilities, please visit our
Photo Gallery
.